In our last post on how returning missionaries can assist church revitalization I want us to look at Vision Casting. If you are unfamiliar with the term it is basically a way to communicate to the church and community what your church stands for and wishes to accomplish with its time, money, and resources. This is a way for pastors and missionaries to recruit people to join them in executing the vision.
Former missionaries would cast vision in two different ways. First as they would recruit supporters from the states to partner they would cast the vision of reaching a particular people group with the gospel. They would normally explain how great the need is for the gospel and then call people in churches to pray and partner in order to see that vision come to fruition. Second, the missionary would cast vision to new believers of how they can reach members of their own community and country with the gospel. A missionary on the field recently shared what he uses to cast vision among his new believers. "Our Vision is to see a church multiplying itself in every major city of our country."
There are some pastors out there that can easily communicate the vision and direction that God gave them for a specific church. We are thankful for these men and the time and energy they put into listening from the Lord, asking for his direction. However, in revitalization contexts the church has lost vision and focus and need some help. As we have explained in previous posts, missionaries can easily see the needs in a specific community and how the church can assist with those needs. The former missionary and pastor can help show the congregation the needs and how they feel the church can help meet those needs.
Once the needs are explained the church staff and lay leaders can better understand how the church is going to meet the needs of a given community. Depending on the size of the church you might only be able to meet one need. And that is ok. It is going to be a great start in your community. The important thing about vision casting is that you have to do it often. In the church I now attend weekly I hear the vision of the church about three to four times in every service. It is important for us to remember our role in implementing the vision of the church that we attend locally.
The church is going through several changes and not all of them are good right now. Membership is down and churches are dying. Some pastors are in crisis mode, trying to figure out how they are going to make budget and payroll. This is something that missionaries have faced for over a decade now on the mission field. This gives them a great deal of experience looking at the situation of dying churches and help them to figure out how to do more with less.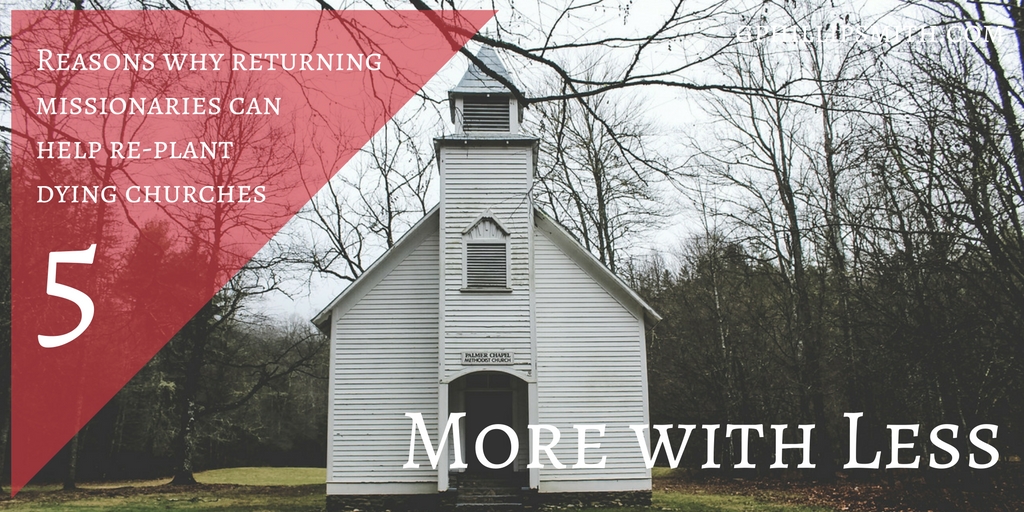 This week we are building off of last week when we talked about priorities. Once you have your priorities in place you can redirect your resources to meet those priorities. These resources can be money, staff, and lay volunteers.
I believe that churches are at the point now where they realize they must make a few changes in order to have its doors open and the ability to invest in the lost world around it. One thing missionaries that raise their own support, or are paid from a mission agency have in common is that funds are decreasing dramatically. To stay on the field, missionaries had to make certain changes and find out how to do more than they ever have, with less than they ever have. This is very useful to churches in the states because for most of them they have never done this before. Especially in this generation.
Churches have to figure out what is important to them and then make changes to the budget to reflect the goals you wish to meet. Lets look at a couple of examples of how missionaries can help the process.
We have to work smarter not harder. We have to take advantage of new free technologies that can help us accomplish our priorities and goals. I believe that people in the church are willing to go above and beyond the call of duty for their church. They just need to be made aware of the resources available and told what to do with them. One way to do more with less is if you are paying someone to clean the church. Ask volunteers to take turns cleaning the facilities. Almost every church has retired people looking for some way to serve their church during the week.
After you have reviewed your priorities and you feel that it is not cost effective to mail out a weekly newsletter through the postal service. You can create a newsletter with the help of a volunteer and then email the newsletter for free. You can still make a few copies available in hard copy for those who attend the services on Sunday and Wednesday. You could also have a volunteer hand deliver the newsletter to members that cannot get out of their house.
This last recommendation is something that the pastor can easily do. However, not all of them have experience in doing it. Missionaries are used to creating bible teaching and materials from scratch. This includes Bible studies and small group material. If your church is spending money on the latest Beth Moore Bible study every quarter then it might be a good use of financial resources to not spend the money and create your own.
This list is not the master list of ways a missionary can help your church do more with less, it is just a start. Your church might have a separate list of problems where they can help encourage the church to do more with less.
Missionaries returning from the mission field understand the importance of setting priorities in order to make the most of their time. Most missionaries understand that they have a limited time in a country overseas so they strive to make the most of everyday. They can assist pastors and churches who struggle with this aspect and are going through revitalization by helping them set priorities and goals.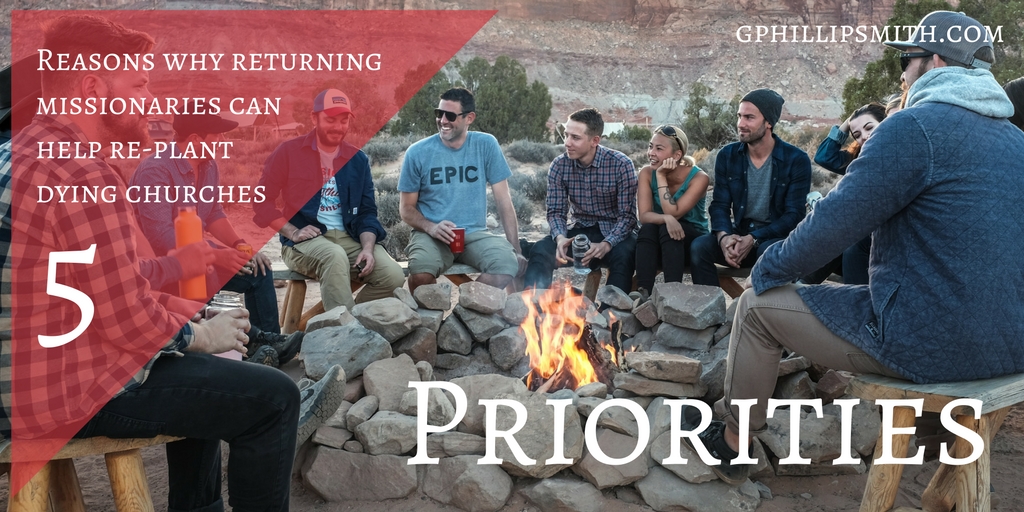 Dying churches need to have a set of priorities or goals that will help guide them to be healthy reproducing churches. As missionaries we had to choose if we were going to focus on evangelism, working with existing churches, or translate scripture. We had to start with the most important at the time and move forward from there. As the saying goes, "You Cant Do Everything". It's true, churches that undergo revitalization are longer able to do all that they did in the past. They now need to focus on the future and the legacy they can leave behind to the next generation of followers of Jesus. Missionaries fresh off the field are able to quickly assess where a dying church is, look at the opportunities the church has, and then help the church put together a plan of goals or priorities in order to move towards being a healthy reproducing church.
I recognize that it is tremendously hard for historic churches to stop doing choir, or Wednesday night worship services. However, if one of our goals as a revitalizing church is to attract and invite members of the community to our worship services then we might need to change the style of music to something they are more familiar with such as a live band. I recognize that your cultural context might look different.
If one of our goals is to spend less money out of the budget, then not having prayer meeting in the church building on Wednesday night might be an option. Especially if there are only 12 people attending. Twelve people can easily fit into someone's home for a night of fellowship and prayer. We have to make the most important thing, the most important thing. The hard part is removing the items that are not the most important. This is when the members of the church need to come together in seasons of prayer and fasting in order to rally together to make the most important thing their number one priority.