If you haven't heard, churches across America are dying at a super-fast rate. Churches are no longer bringing in new believers except through birth and so as the older members are literally dying off the church can no longer support its current ministries and staff. When I went to seminary over ten years ago students talked about going to plant new churches, or serve with existing churches. Now in seminary no one talks about serving with existing churches. One of the main reasons is that none of the existing churches are hiring new staff right out of seminary. It's is a fast changing time for those of us in vocational ministry.
As churches have been dying off, a new passion has arrived from young and old pastors to revitalize or re-plant these dying churches. However, as you know in the church world, everything has to move super slow. So as state conventions and local church networks strive to find new ways to help dying churches thrive alive again it really is a very new process in the church world.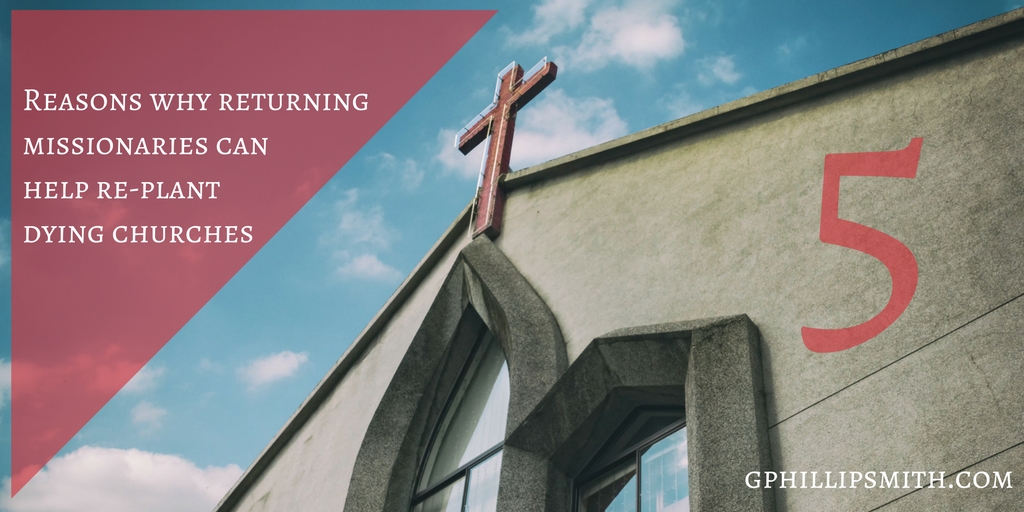 As we look for people who will knowingly walk into a dying situation we really need some of the people in the world to revive these churches. I have spent the past few weeks reading and listening to those in the re-planting community as they talk about the characteristics needed for church re-planters. They talk about them as though they need to have the desire of a new church planter and that of a pastor. However, they go on to say that it is more complicated than church planting because you have those in the church who want to keep all of their baggage from the other pastors who have served over the past few years at a church.
So now that I have looked over the characteristics needed for ministers who desire to re-plant a dying church, I looked up and saw something incredible. About the same time, we see a large need for people to walk into dying churches, we see a massive flood of missionaries returning from the mission field. I often thought that there would come a day in my lifetime where missionaries would be called back to the states to help churches. Now, I am not claiming this is what happened. Many of our missionaries retired and felt that the lord was telling them it was time to move back to the states.
So as I continued to read about Re-planting I saw similarities in missionaries that I had worked with for years. About that time a light bulb went off. What if we placed some of these seasoned church planters in dying churches? The more I thought about this the more excited I got. If you know anything about missionaries, they never really retire. They have a large untapped wealth of knowledge when it comes to serving an unreached community. Over the next few weeks we will look at 5 different ways former missionaries can help re-plant existing churches in order to
Engage A Changing American Culture, Focus On Evangelism & Discipleship, Cast A New Vision For The Church, Know How To Do More With Less,
and
Develop Partnerships With Volunteers.