19/August/2016
The third noticeable observation is that people in the church talk a lot about being missional but they have no idea how to do it. They continue to compartmentalize work, family, and church. I am not sure that their parents or pastors have taught them to live this way. It's just how they role. I have talked to several people who say, "I just don't know what to say" or "I don't think I can love that person as my neighbor". Well if that is the case you have a Jesus problem. Most people who attend church can learn how to listen and share the gospel. Our biggest problem in this whole thing is we have lost the ability to share a Gospel conversation after we have listened to someone tell us something about their life. We don't have to make it strange. We can use language that they understand in order to tell them that Jesus loves them and that He commanded us to love our neighbor. Because we do not know how to live as missional believers we miss opportunity after opportunity. We tend to stand in the corner and ignore all that is going on in the world, even if it is right in front of us in the grocery line.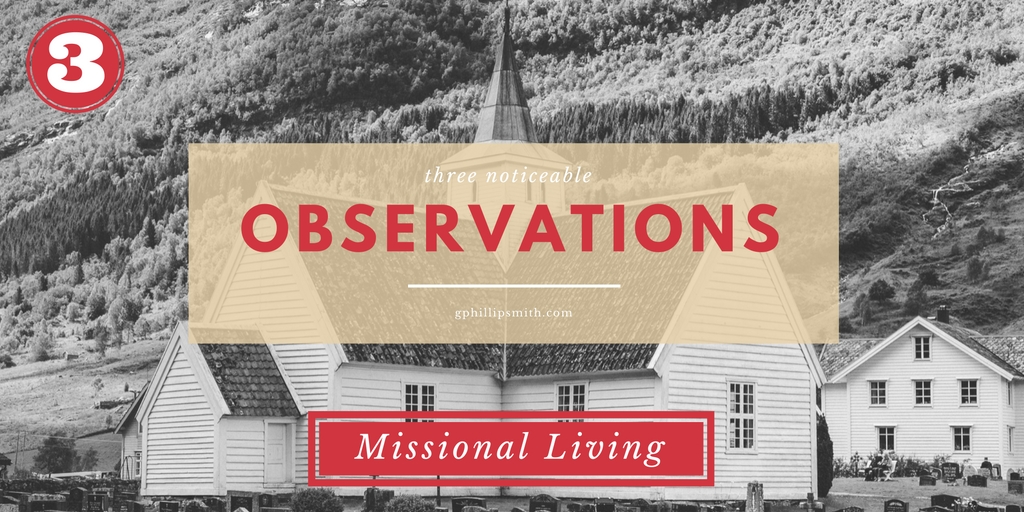 In order to live missional, we need the desire to live this way. It is a behavior shift as well as a lifestyle change for most people. My concern is that most of us are happy to take time out of our summer or year and go on a mission trip spending thousands of dollars but we have no desire to live that same life daily in front of our neighbors. Hey Phil you better watch it, I know my neighbors and they go to church. If that is true, then great. You are lucky, but you still have to treat them the same way you want to be treated. The sad part is most of us want to be left alone. But Christ did not design us to live alone. He designed us to live and be in community with others. When we are in biblical community it is easier to live a missional lifestyle because you are not doing it alone. You are a missional group encouraging each other and holding each other accountable for missional living.
For years, many of my friends in the church have experienced lives that for the most part have been silos. We would have our church life, work life, and then our extracurricular life which could be camping or sports. These Christians would act different in each group. They did this because it is easier on the mind to be able to turn off one compartment and turn on another. So back in the 90s we started asking people to merge the church life with the work life and it didn't really work because we never taught them how to do it. We didn't take the time to show them how, based on their job, and skill set how they can best be light among the darkness at their place of employment. Most of the time church members do not realize that God has already placed them to love and minister to others. I believe that this is one of the most fundamental problems with the church today. We don't know how to live our lives for Jesus all the time. After thinking about this for several weeks I believe that if we do not act as missional Christians in our communities, if our churches do not send out its members into the community the be light, then it is the same as not sending missionaries to the nations. Romans 10 gives us a super clear picture of how this works. The church sends, missionaries preach, the lost hear, then they believe and its awesome. But there is only one place for all of that to get messed up and it has to deal with the church. Because if we stop sending people to our communities, if we stop sending missionaries to the nations then they won't preach and the lost will not hear and if that's the case they will not believe and they will spend an eternity in hell because we as the church stopped sending.
05/August/2016
I was not ready to see that poor condition of the church upon my return. She looks and acts weak. I am not 100 percent sure why this is other than the fact that the people that attend churches on a regular basis have no idea what a healthy church looks like. They think they know, but they have not looked at the definition of a healthy church in so long they think they are fine. The leadership of many churches, especially in the South have neglected to notice and take action at the shift in American culture. I recognize that it is easy for me to see this, I have been gone for years and now I land back in the middle of the over churched south. I see churches doing the same good things that they did so many years ago. These were great things that lead to people coming to Christ in high numbers. But as the culture changes so do the methods needed to engage the current culture. Because many churches have not addressed such changes they will eventually die off, and hear it from me, that is terribly sad.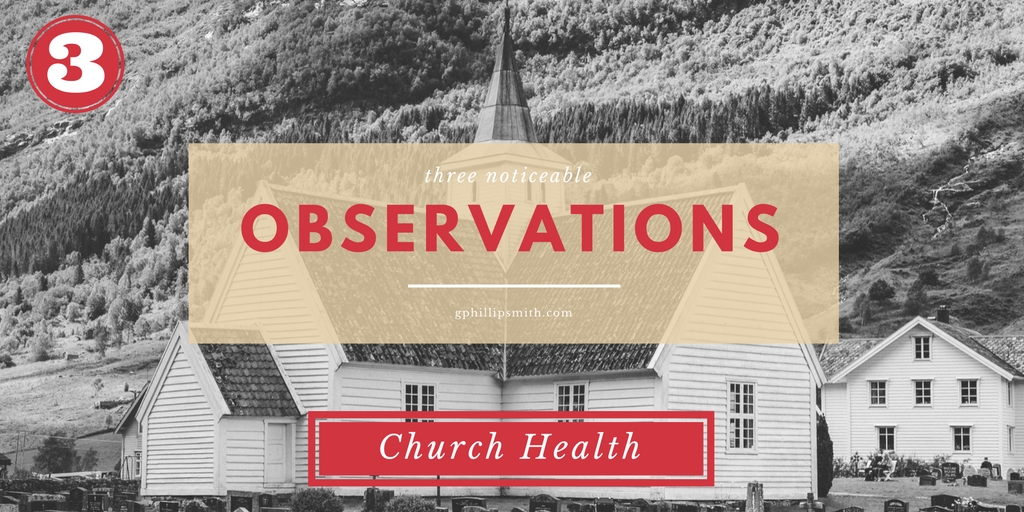 Observations
:
Churches are closing. Now more than ever before in the history of the church. It is hard to miss how churches are no longer able to function. Don't get me wrong I have a list of churches that I think need to close. I truly believe that the people that attend the church will draw closer and deeper in their walk with the Father if they attend another church. Another observation I have noticed is that churches are still doing the same things, the same strategies as they did when I was a boy. In my ten years as a missionary with the imb we changed our mission strategy based off of our target culture every three years. The church missed the fact that even though some of the family names in their churches are the same, they are different people. Their values and priorities have shifted dramatically. So we have to shift the way we interact, love, teach, train, and disciple these wonderful families.
Assumptions
:
I made a huge mistake after returning from the mission field and making the observations above. I thought that the church and those inside it saw things as I saw them. Surly they see how bad it is and how much they need to change in order to have an impact on the members and the surrounding community. Man, I was way off. I assumed that churches and sometimes pastors would take notice of the time, money, and resources used every week in order to make the necessary changes to make disciples in their own backyard. Forget the nations for a sec. I just want you to talk to your neighbor about Jesus. I assumed that over the past ten years I was gone discipleship would have a greater priority in the church. But I am not sure that has taken place either.
Conversations
:
I have had several conversations with church members, pastors, lay leaders, and various church staff from large and small churches in the South. I am curious to a fault and a strong strategic thinker so in asking questions I am trying to wrap my odd brain around church activity and it can come across mean. But if you are still reading this post I am going to assume that you don't care and want to hear what I have to say. I think the most frustrating question I ask people is one little word that causes the conversation to shift. I ask "Why", it is a simple question that helps me get to the strategic importance of whatever activity we are talking about. My follow-up question usually digs a little deeper when I ask, "Is it working? Are you seeing the results you want to see?" The answer is almost always "no" so I ask then why do it. It feels like so many of our churches have absolutely no strategy to share the gospel and disciple new believers. Every church can have a strategy to reach lost persons to Christ. I hope that we can stop having Sunday just to have Sunday and start producing disciples that disciple.
My conversations, observations and assumptions have lead me to be very be concerned about the future health of our churches in America. We have to change, we have to act now, we have to be about the task He has commanded us to be about… until He returns.
04/August/2016
Many of you know that my wife and I lived abroad for almost ten years. Yes, we would come home for six months at a time and would attend a local church but we only did this a couple of times and it was in a different location every time. Over the past year of being back in the states I have noticed a few things about the church. So I have turned these observations into three quick blog posts that all churches need to take a look at if they want to be around in the next ten years. Over the next three weeks we will look at Church Health, Church Budgets, and Missional Living.